Free Microsoft Powerpoint Tutorial
Our Free Microsoft PowerPoint Tutorial will enable you to learn how to create stunning eye-catching on-screen presentations.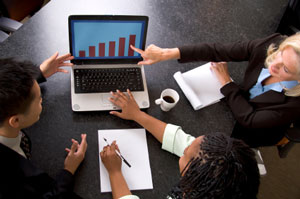 These Presentations can include a combination of
grahics, text, charts
and also
animation.
Powerpoint can also be used to create
flyers
and
posters.

Use Powerpoint to tell a story, share meaningful content, and engage your clients using its interactive tools.
Scroll down to source our list of basic and intermediate Free Powerpoint training to create professional and creative digital presentations.
These are the topics covered...
If you have any questions, suggestions or comments on our Free Powerpoint Training, please let us know - we're more than happy to assist.
This short tutorial will prepare you with the basics of Microsoft Powerpoint — how to create content on slides and prepare to present a show. It includes:
Put text and pictures on slides
Navigate in PowerPoint
Apply a design template
Arrange slide content using layouts
Print handouts and notes
Prepare your presentation
Change a design using Slide Masters
Learn how to create a design change in PowerPoint that applies to several slides at the same time. Edit elements such as the text position, font, and layout. Work with several master slides in a show with more than one design template. This short tutorial includes:
Edit the slide master including altering text, font styles, layout, and adding images
Use the title master with the slide master to create more design options
Edit specific groups of slides that using multiple design templates
Learn how to use and troubleshoot Powerpoint printing options. How to print slides, handouts and speaker notes. Learn how to choose additional layout choices for your presentation.
Using print preview
Printing options for notes, slides, outlines, or handouts
Adding and editing footers, headers, and notes
Learn to take advantage of Word options for rinting
Customise a template for your presentation using your Company logo. This includes:
Create a new template using your own Design
Choose your own background images, colours, fonts, and text
Create title slides with an original design
Learn how to use animation to create graphics - text fly in, zoon in, and bounce. This tutorial includes:
Use preset features to apply text animation
Edit preset effects of create your own animattion using custom animation
Use dimming and sound effects to animate text
Fade images using effects
Timing Learn how to add timing effects. This tutorial includes:
Use time delays to create effects
Learn about other timing options
Learn how effects work together
Special Features of Powerpoint
Learn how to package and present your slideshow on to a CD. More tips on templates, title master slide, and picture optimisation.
Add a customised template to a presentation
Add a unique design to title slides using the title master
Learn how to optimise images
Package your slideshow to a CD or folder
Return from Free Microsoft Powerpoint Tutorial to Free Online Computer Training